Ven y disfruta de The Ice Rink en The Woodlands Town Center
Posted by Dany Merlo on Thursday, December 10th, 2015 at 2:31pm.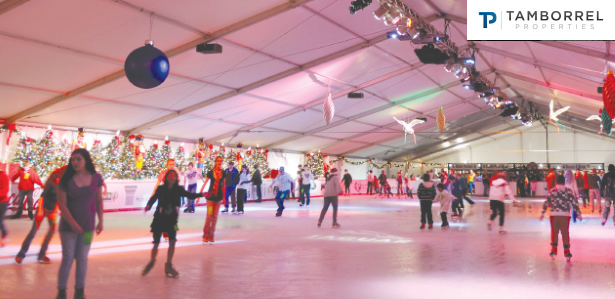 The Woodlands Ice Rink abrió sus puertas para la temporada navideña este pasado 19 de noviembre, para que las familias de The Woodlands y sus alrededores puedan ir a divertirse. Como todos los años, habrá descuentos y promociones para aquellos que visiten la pista de hielo. Éstas dependerán del día de la semana y ofrecerán diferentes beneficios.
Las promociones diarias para la temporada 2015-16 son las siguientes:
Lunes: Día de traer a un amigo. Compra una entrada a precio completo con renta de patines y obtén la siguiente gratis.
Martes: Día del residente. Residentes de The Woodlands ahorran 3 dólares del precio semanal de una entrada para adultos.
Miércoles: Día de un dólar menos: Ahorra 1 dólar en el precio semanal de una entrada para adultos.
Jueves: Día de chocolate caliente: Disfruta de chocolate caliente gratuito en el área de comida de The Ice Rink.
Viernes: Noche de Rock n' Skate: Patina al ritmo de la música y un espectáculo de luces de 8 a 11 de la noche.
Las familias también podrán pasar por el Xfinity Service Center en 1501 Lake Robbins Drive para obtener un cupón de Compran uno, obtén otro gratis (uno por familia) para obtener una entrada y renta de patines gratis con la compra de una entrada y una renta de patines. Este cupón es válido cualquier día de la semana. Para los que frecuentan la pista, podrán obtener la Frequent Skater Card, la cual está disponible en las taquillas de entrada de The Ice Rink. Esta tarjeta permitirá al poseedor obtener una entrada gratis por cada entradas adquiridas.
Las promociones y descuentos mencionados no estarán disponibles en Nochebuena, Navidad, 31 de diciembre y 1 de enero y no se pueden combinar con otras ofertas. Los precios para una sesión de dos horas de lunes a viernes son de 9.50 dólares para adultos y de 5 dólares para niños menores de 5 años. Para los fines de semana, los precios son de 10.50 y 6 dólares respectivamente. Todos los precios incluyen la renta de patines. También están disponibles por separado renta de cascos y caminadores para asistir a los niños. Para niños menores de 5 años, habrá una pista de hielo para ellos.
The Ice Rink permanecerá abierta hasta el lunes 18 de enero. Los horarios son de lunes a jueves de 3 de la tarde a 9 de la noche, viernes de 3 de la tarde a 11 de la noche, sábados de 10 de la mañana a 11 de la noche y domingos de mediodía a 7 de la noche.
Fuente: The Paper Magazine
Leave a Comment